Reality Checks & Financial Myths
Happy Summer! Hopefully, you are all getting your lives back to normal post COVID. I do not miss the solitude of my personal quarantine. I am enjoying going back to my workout classes. I am enjoying concerts and live music again in Nashville. I am appreciating the ability to gather with my friends. It is nice to see people's smiles again.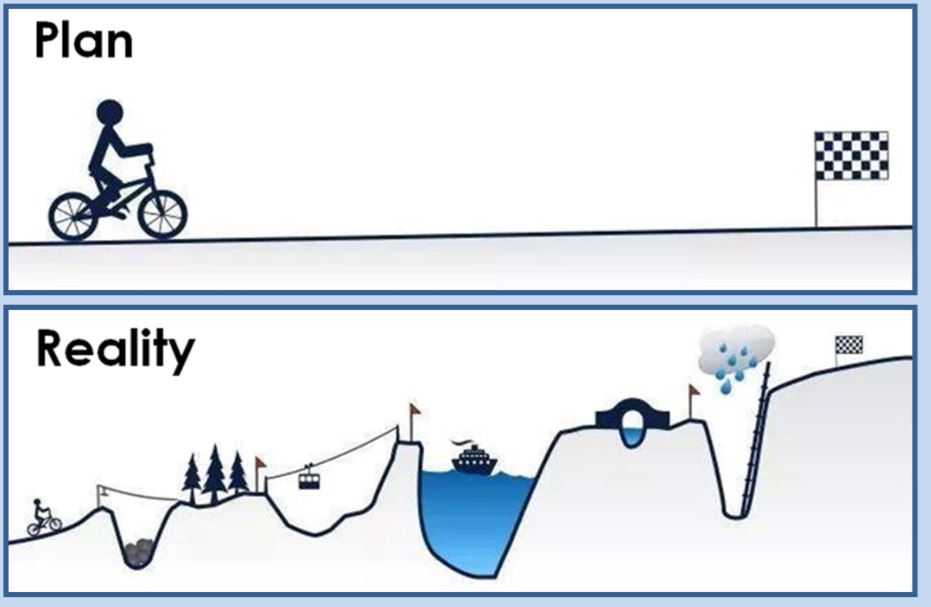 The illustration above used to hang on my wall until I ran out of wall space when I moved my office to my home. I believe it is the epitome of, "a picture is worth a thousand words." In my daily conversations with clients, friends, and referral partners, I am reminded of the constant disconnect between what they think and what I know to be true. I call these "financial myths" and here are just a few of them:
Myth: "Cheaper is always better"
It feels like I am inundated with either TV ads or posts flowing through my social media streams telling me that I should believe that with regards to all types of insurance (home, auto, life, etc.) that cheaper is always better. Honestly, do you really know exactly what auto coverage you need? Or perhaps what you might need, but think you do not? 
Myth: "The secret sauce"
Multiple financial planning firms located nowhere near Nashville seem to have all the answers regarding my money and how their "secret sauce" will resolve all of my financial concerns. But when it comes to money, investment, and retirement planning, guess what? There is no secret sauce!  There's effort, strategy, planning, and commitment to your financial goals.
With regards to information flowing through the internet, I guess they are assuming that as a consumer, we should know exactly what the Dow Jones Industrial Average (DJIA), the NASDAQ, and the New York Stock Exchange (NYSE) numbers actually mean when they say that it's up or it's down, and that we all understand how the daily up or down directly affects our investments, retirement and our money. Do you know? To me, these people sound like Charlie Brown's teacher: wah, wah, wah, wah. 
Myth: "Shouldn't no claims mean no rate increases?"
Another myth I hear regularly is the thought that "I've never had an insurance claim, so why did my rates go up?" Somedays I feel like the Little Dutch Boy with his finger in the dyke trying to reduce or mitigate my client's renewal rate adjustments. Elite Insurance has relationships with over a dozen highly rated insurance companies for home, auto, landlord, and liability coverages. Almost every company in our stable is taking some type of rate adjustment.
We all know about the insane inflation in the cost of building materials and lumber, and we hear daily about how it is affecting new home construction. As such, it makes perfect sense that it would also affect the cost of repairs and reconstruction due to insurance claims. We are feeling the price increases on just about every purchase we will make this year. From the grocery store to the auto dealership, and insurance premiums are no different.
You are also subjected to a barrage of ads from attorneys telling us that "we deserve to be paid." Of course, these payments come from insurance companies. So, we have conflicting dialogues going on here: insurance companies advertising on price, attorneys suing insurance companies, and consumers thinking that their rates should not go up. There are multiple factors that go into that annual renewal premium and any increases that might occur, and you are welcome to call me to discuss these and why they happen. 
Myth: "Investment and retirement DOs and DON'Ts"
On the investment and planning side, there are many companies telling you their "top 10 things you should NOT do with your investment and retirement planning."  Funny, but some of the things on their list are strategies I might utilize when appropriate to meet a client's wants and objectives. There are plenty of media pundits telling you that their way is the only way. They also say that you should only work with a particular company because they are Fiduciaries. Hmmm…guess what? I am too. So what?
Myth: "Brian is an insurance guy" or "Brian is a financial advisory guy"
It's true that I have always had an "identity crisis". If you see me as your "home & auto insurance guy" then you might not know that I'm a comprehensive financial advisor and Fiduciary that carries both Series 7 and 65 Securities licenses. Of course, the opposite is true as well. 
A major stride forward in correcting this myth has been reworking my website www.briancarden.com  to feature both my insurance services and my investment/financial planning practice. I will soon be able to warehouse and catalog more than 15 years of blogs on the site as well. That will take some time, but in the interim, give www.briancarden.com a look and tell me what you think!
Now what?
If these myths have left you totally confused, then I have accomplished my goal with this blog. If you are relooking at the drawing above and are feeling like you are somewhere on the reality line, maybe it is time we had that long overdue coffee meeting.
As always, thanks for reading. It is always great to hear from you, either via email or when we see each other in social settings. Enjoy your summer!
Many thanks,
Brian
**Examples are intended for illustrative purposes only and may be not indicative of your situation. Individual results may vary.
Securities and Advisory services offered through Madison Avenue Securities, LLC. Member FINRA/SIPC, a registered investment advisor. Past market performance is not indicative of future performance or success. It is not possible to invest directly in an index.
www.brokercheck.finra.org