It's the Most Wonderful Time of the Year
I must admit that as usual, I'm having a hard time getting into the Christmas spirit. Pandora has several great acoustic and instrumental holiday stations that are streaming whenever I'm in the office. It's the music that does help with my spirit, that's for sure. From a professional and personal standpoint, it has been a great year. There are people in my life now that weren't in it a year ago. Golf has been a great conduit to meeting some amazing people. You can get to know someone fairly well when you're walking 18 holes together. It's a sport that can bring out the best and worst in people, and I always choose to see the best.
It's always a place where I feel closer to my dad, and of course my dear departed friend Joe Case, who left us last December from complications from heart surgery. Joe used to give me a hard time when I was talking or telling a joke while standing over my ball on the tee box. I used to tell him that I came by it honestly as it was definitely an inherited trait from Dad. Joe was notorious with his "announcer curses." I'd hit a putt and it looked like it was going straight in the hole, and he would say, "Great putt!" only to watch the ball turn away from the cup at the last moment. In this picture, you can see why we miss our friend.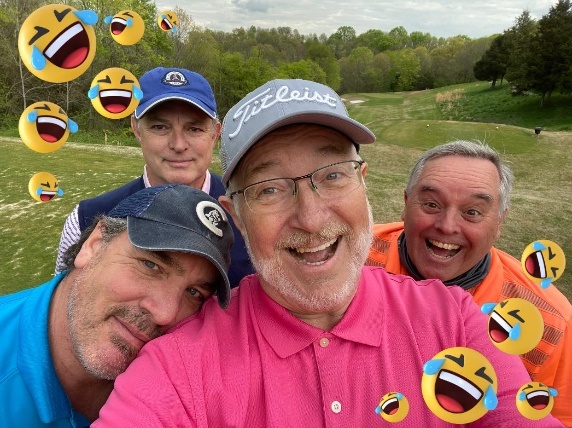 I was playing this summer with my Wednesday group where everyone remembered Joe and the same thing happened. As I watched the ball slide to the right just as it was going to go in, someone made that same comment and I said, "You Joe Cased me!" Of course, everyone laughed. 2022 was a different year with regards to these times as my "busyness" freed up with the sale of one of my lines of insurance business. It seemed like I could never get away from my desk as taking care of my clients was paramount. Needless to say, a very high percentage of professional stress went away with the sale, but I do miss the relationships made for the last 11 years.
I won't say these were truly "bucket list" items, but each was a great experience shared by many. Playing St. Andrews in Scotland was a great experience. There was about fourteen of us that played, and I think we were all giddy that day. This is probably the only picture in my home of just me. All others are of friends and family. There have been so many legends of the game that have crossed that bridge!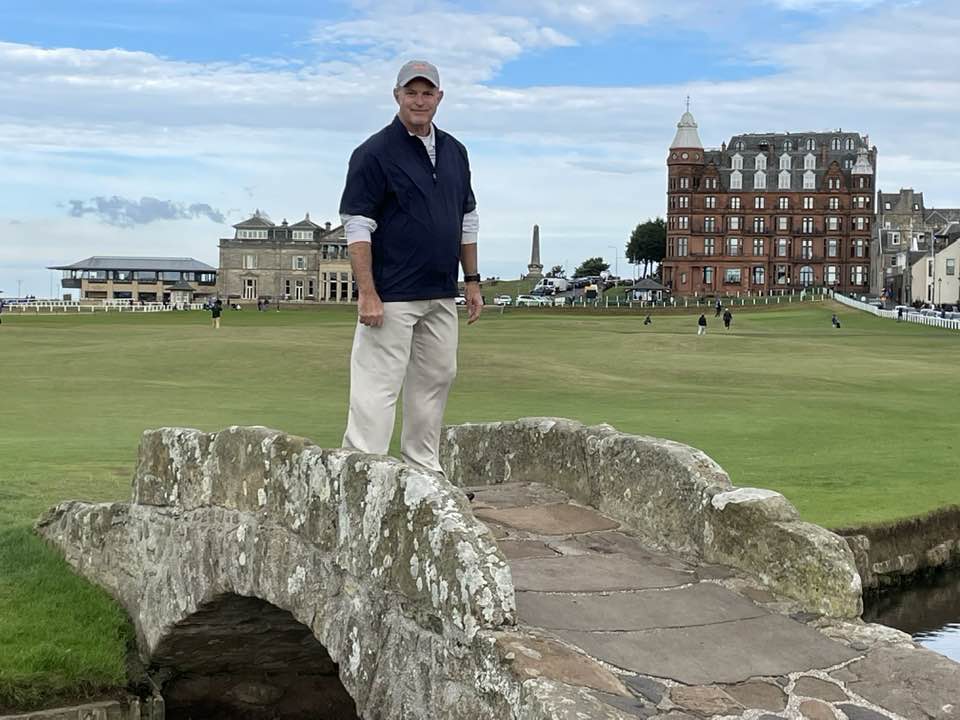 The other major event in my life was the publishing of my first book, Castles & Moats. It went from a rough draft that sat in my document list for several years, to a completed manuscript, and then to a reality. Amazingly, the project took flight on the golf course as my friendship with Jonathan Merkh initially developed on the links as well. After traversing down many fairways, I shared it with him, and once he read that rough draft, he encouraged me to really drill down on its completion and his team at Forefront Books circled around me to make it a reality. I still scratch my head when I hold a copy in my hands. Needless to say, it was a labor of love, with a lot of frustrations in the midst.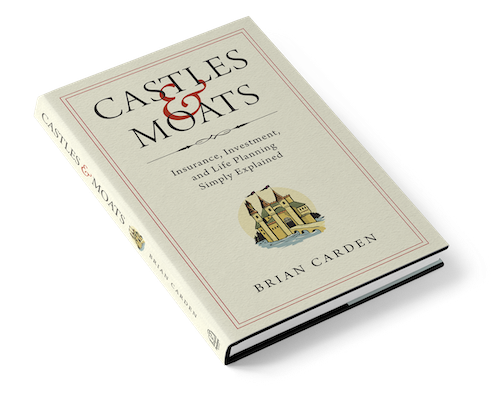 I found myself having the same exact conversations on a variety of insurance and investment topics and strategies over the years, and this is a culmination of those talks. Today, when I'm having those same discussions, I'll say, "go to Chapter __ and you will help you understand more about what we are talking about."
Amazingly, quite a few of my friends and clients have bought multiple copies to give to their teenage and adult children. I never thought about that when I was writing, but in hindsight, did any of us have any direction on financial decisions when we had to make good decisions on buying insurance or setting up investment and retirement accounts? Personally, I pretty much had to wing it! Sometimes I got it right and sometimes not.
As a "shameless self-promotion," would this make a good Christmas gift to your kids, or people you know? My website will take you to a link where you can purchase on Amazon or locally at Parnassus Books. It would be an honor to know that someone benefited from it.
Well, word count says to wrap it up, and I will. If you are a new or old friend, a current or former client please know how much I appreciate you being a part of my life. In celebrating my 40th anniversary in this business, and in looking ahead to next year when I will become "Medicare eligible" (that's another story altogether), I am a blessed and grateful man. So, I wish for each of you a Merry Christmas, a Happy Hanukkah, and a peaceful holiday season.
Many thanks,
Brian
**Examples are intended for illustrative purposes only and may be not indicative of your situation. Individual results may vary.
Securities and Advisory services offered through Madison Avenue Securities, LLC. Member FINRA/SIPC, a registered investment advisor. Past market performance is not indicative of future performance or success. It is not possible to invest directly in an index.
www.brokercheck.finra.org