Thanksgiving Thoughts From My Soul
This was originally written in 2006. It is something that I have carried with me since I was five and it took decades for me to write. There are a variety of ways you might know me. You could be one of my clients, friends, or both. Maybe I'm someone you think you know. Hopefully after reading this, you might know me a little better and it's my hope you will.
Thanksgiving has always been hard on our family. Yes, you would think that it should be the "day of thanks" and that everyone should celebrate. However, this is a different story, and it is something I have wanted to write for years. On that day in 1963, my Uncle George, Aunt Grace (Mom's sister) and three cousins, Lisa, Ellen & Mac were coming to have dinner and spend a few days with us. Uncle George was a pharmacist in Lawrenceburg and had just bought his own Beechcraft airplane, so they were going to fly to be with us in Knoxville.
When I broke my leg earlier that summer, Aunt Grace spoiled me rotten. I got presents from Uncle George's drug store in the mail on a regular basis. Since Mac was a few years older than me, his "hand-me-downs" always came my way too, but it was cool, because they were Mac's, and he and I were buddies. Needless to say, we were all excited about their arrival. Me being five and my brother David almost three, my actual memories are unsure at best. I remember going to the airport with Dad to wait for them, but again, I'm not sure.
I remember Mom being at first impatient as they were not there, and later being extremely emotional. No one will ever know what actually happened, but the plane crashed somewhere around Crossville and the entire family was killed. Dad had to identify the bodies. Even though it was Mom's sister and her family, back then the husband was the only one they would allow. He never talked about it, and he probably cried as much as anyone. David and I did not go to the funeral. Mom pretty much had to be the rock for her family as her parents, who lived less than a block away from Uncle George & Aunt Grace, were in absolute shock.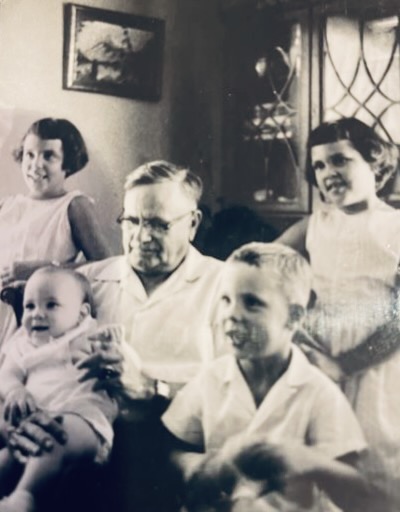 Christmas, 1958. From top left: Lisa, Ellen, Mac, me and of course, Granddaddy.
My first thoughts of what God was like came from that time. If you remember your history, the Thursday before, JFK was shot in Dallas. My childlike thoughts were of Mac and President Kennedy sitting on a hay bale (think manger) talking to each other, waiting to meet God…kind of like I waited in the doctor's office with Mom. I thought "How cool…Mac got to meet the President…and God too! I can't wait to talk to him about it!"
Mom told me years later about the funeral. The entire town shut down. Businesses closed, and everyone was in mourning. They did not have backhoes like they do today. The gravediggers had to dig five side by side and it took almost the entire night. She said she counted almost eighty arrangements at the graveside and a cold front came through the night of the funeral, freezing all of the flowers. The imagery of that still affects me. One of my last memories of Granddaddy was that Christmas. Aunt Grace & Uncle George had gifts for me & David.
Knowing Aunt Grace like I did, she probably had already bought it before their death. As I was opening it, he just sat there in his chair and cried. He died the following April from a heart attack…actually, he died from a "broken heart attack". Their neighbors' son Jim told me that he would sit across the street from the cemetery in his car and cry for hours. Just like my thoughts about Mac, "I can't wait to talk to him about it."
There are several thoughts that could lead into my monthly rant about insurance, investment planning, etc. However, I'm not going there. I think of my cousins often…wondering what my life would have been like with them in it. Mom reminds me that I'm a lot like her father, and I wear that like a badge of honor. I have his cufflinks and wear them regularly. Mac's bible is on a shelf at home in front our Granddaddy's picture…where it belongs.
Our lives are so blessed with friends and family who are still alive and well. Some of my close friends are not so well this Thanksgiving, and just as I think often of my family members who are in Heaven, I will pray often for my friends that are still with us. On this Thanksgiving, let us be grateful for all that we have that we may take for granted. You never know what tomorrow may bring…and regardless of whom life may take from us; let's look forward to that day when we "can't wait to talk to them about it."
Many thanks,
Brian
**Examples are intended for illustrative purposes only and may be not indicative of your situation. Individual results may vary.
Securities and Advisory services offered through Madison Avenue Securities, LLC. Member FINRA/SIPC, a registered investment advisor. Past market performance is not indicative of future performance or success. It is not possible to invest directly in an index.
www.brokercheck.finra.org